Welcome to Pease Farm Stable, LLC.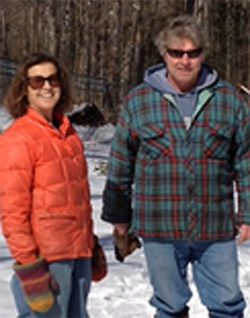 "After 33 years of owning and operating historic Pease Farm, we are officially retiring at the end of 2019.
Over the past three decades, we have worked diligently to preserve the rural landscape and agricultural way of life that has been the farm's trademark for over 175 years. Not only did we raise our children, Corey and Mariah, on the farm, we have now happily introduced this way of life to a new generation of Seidman/Harrowers: grandgirls Bella, Aliyah, Lucia, Ivy, Hazel and Willa as well as our first grandson, Levi.
While we will continue to live at our home adjacent to Pease Farm, we have been working with Vermont Land Trust (VLT) over the past year to secure a conservation easement for the original farm. This easement will ensure that Pease Farm continues on as an agricultural endeavor in future, a goal that has been a top priority for us both.
Our sincere wish is that together we can assure the long-term sustainability of the farm under the stewardship of a new generation of farmers. There is nothing that would please us more than to pitch in at haying time — as our friends and neighbors did for us — in exchange for a cold glass of switchel or lemonade! It is our genuine hope that together, as a community, we can continue to preserve the spirit of this beautiful land and the legacy of Gerald Pease, the farm's original founder.
Thank you for supporting our efforts over the years."
Sarah Seidman & Scott Harrower
If you are interested in learning more about VLT opportunities at Pease farm, please contact Sarah or Scott.