Welcome to Pease Farm Stable, LLC.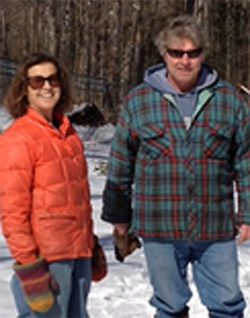 After 33 years of owning and operating historic Pease Farm, we officially retired at the end of 2019, but like the rest of the world, the covid pandemic has changed everything. 
We have altered our future plans for our beloved farm. Originally our plans were to conserve the farm through the Vermont Land Trust (VLT) but we have now made the decision to keep the farm intact, as our son Corey and family intend to move home in the next few years to create their own education enterprise there.
We are excited that the rural landscape and agricultural way of life that has been the farm's trademark for over 175 years will be preserved and that our grandchildren will be able to enjoy and help assure the long-term sustainability of the farm.   
Our decision also means we will continue to offer boarding and training, as well as great organic first and second cut hay for sale. Please be in touch if you'd like to be on the list for some of this year's crop. Although I will not be offering lessons, since I no longer have school horses, we will continue to welcome visitors to the peace and beauty of the farm. 
Thanks to one and all for continuing to support our efforts, Sarah and Scott
Valued members of our VHAT family can also continue to contact

Sarah

directly through Pease Farm.
Email: [email protected]
If you are interested in learning more about Pease farm, please contact Sarah or Scott.