Introducing the Pease Farm Herd

Dublin
A 15 hh liver chestnut Morgan born in 1994, this guy is a real success story. Sarah rescued him from a backyard pasture in Northfield at age 5 when his owners said they knew he was fast "because when we chase him with our ATV, he can really go!" Dublin now performs first level dressage, is a talented jumper, a solid trail horse and, as a tribute to the Morgan character, can do a little bit of everything well. Sound, sane and athletic, we use Dublin for our higher-level students.

Lady
A well trained older QH mare we are lucky to be sharing with owner Ruth Porter. She came to us in 2018 and is already a favorite.

Molly
This 15 hh flea-bitten Connemara mare born in 1997 came to Sarah in a sad story. Her owner in Vermont had just brought Molly from the midwest when she was diagnosed with terminal cancer. Molly came to us with a nasty temper, especially when eating. She has become an accomplished dressage horse, though she may be the only Connemara in existence who is terrified of jumping. She's very pretty and well schooled for regular and therapy lessons, but we still sometimes need to remind her that respect has to go both ways.

Rumor
An Appaloosa-cross PMU rescue born in 2000, Rumor Has It has been with Pease Farm Barn Manager Susan Mitchell since she was a weanling. Today Rumor gives lessons at the farm while she continues her equine education. She's a character, a dominant mare who would love to become boss of the entire herd. One of the superstars of our therapy program, too!

Coffee Cappuccino
Coffee is a dark bay Percheron/TB cross mare, born around 1991. She came to us with a very bad attitude which included biting and girthiness and even misbehavior under saddle, so we gave her a winter off. She's now an excellent jumper and dressage horse, but suitable only for adult, experienced riders; Beth Holtzman has half-leased her several summers and reports she's just plain fun on the trail.

Magic
Magic is a lovely bay TB mare, born 1995, who was donated to our therapy program, but soon decided to give that job to her friend Preview and work with neuro-typical riders instead. She's a retired hunter with a lovely canter and a good work ethic, but her favorite activity is grazing in our green fields.

Preview
Preview is one of the stars of our therapy program. Born in 1996, a flashy palomino paint with one blue eye, Preview was originally a Make-a-Wish Foundation horse, so he knows how to be careful with special needs riders. His bouncy trot is just right for students who need extra sensory input and his calm attitude says, "Hey! No worries! I'll take care of it!"  His nickname "Wonder" was bestowed on him by our ASD friend, Parker, who said he always "wonders" where his favorite horse will take him.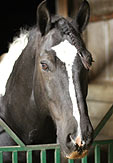 Benny
Mr. Benjamin Moore (from the paint company, get it?) is a 16.3hh draft cross back-and-white pinto gelding born in 2001 and donated to our therapy program by Sarah's goddaughter Kimberly Vonk Harris. Kim is an accomplished dressage rider and raised and trained Benny as a dressage horse, but recently realized that Benny was not happy in that occupation. With his calm and sweet temperament, she knew he'd make a perfect therapy horse and we are so grateful she chose Pease Farm for his new home. He loves his big pasture, his pasture-mate Chance, and is learning his new job helping both neuro-typical and therapy students of all ages and sizes.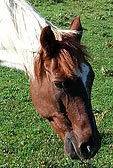 Rigby
Rigby is an older chestnut and white pinto pony, 14hh, who was rescued from an abusive situation by longtime VHAT supporter Celina Moore. He's well trained as a hunter/jumper and also in flatwork, though his unhappy early life means ground manners are still a work in progress. When Celina sadly had to dismantle her own herd, she chose Pease Farm as Rigby's new home, and he's been a delightful and darling addition to the herd.

Tante
Tante, born in 2000, is on loan to the farm and the therapy program from owner Marissa Pratt who graduated from high school in Vermont and is now in NYC pursuing a career in the fashion industry. A dark bay 14.3hh  Morgan, Tante is a barn favorite, always eager for attention if carrots or apples are involved. He's nicely trained for ringwork, but especially enjoys adventures out on the trail.
Here are some of our star boarders:

Bailey
Sarah Slatter's daughter, Melanie, owns Bailey, born 1998, a fancy bay QH/Arab mare with a white face and a lively disposition. Bailey came off the Florida hunter/jumper circuit and now enjoys dressage, trail riding, and her unblanketed and less stressful life as a furry Pease Farm pony.

Chance
Chance got lucky when owner and VHAT Board President Sarah Patterson spotted this 17 hh roan QH, born in 2007, at a big sales barn and brought him to the farm. She is currently educating him in dressage and jumping, hoping that someday he'll be able to help out on the therapy side of Pease Farm as well.
Gone, but not forgotten...We also honor our horses partners who now rest in peace in the Pease Farm graveyard including our beloved Misty, Willy Wally, Sedge, Bonnie, Midnight, Abe, Tony, Gretchen, Blue and Talat.